What is Holga?
Holga
[hohl-guh]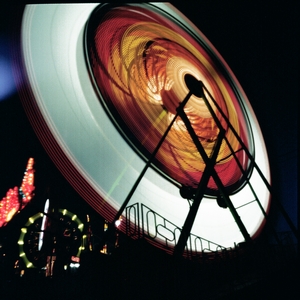 –verb (without an object)
1. to play

"I'm gonna holga around with it."

2. to innovate

"I'll holga a way to use this film in that camera."

3. to artistically capture images

"I can holga everything I think is beautiful."
–verb (with an object)
4. to modify

"I totally holga-ed my car's bumper with some duct tape."

5. to make something one's own interpretation

"It is a normal dishwasher until I holga it into a clam steamer."
–noun
6. a plastic, toy camera

"I used a Holga to shoot my friend's wedding."

7. a person that uses their own sense of style and artistry to interpret their surroundings.

"He's such a Holga, always trying crazy new things."
-adjective
8. modified/personalized

"Wow, your bedroom is definitely Holga!"

9. quirky/hip/cool

"These new Silly Bands are Holga!"
Hello Holga!
In a world where technology changes and advances every day, it's refreshing that a chunky utilitarian camera made almost entirely of plastic has reawakened and is enlightening the analog world of photography. A Holga goes back to the bare necessities of photography and forces users to stop relying thinking on the bells and whistles and simply shoot.
Holga is for those who want to create truly unique images - for those who appreciate light leaks, enjoy slight soft focus and welcome retro vignetting. Due to its simple and inexpensive design, Holga is categorized as a toy camera. The very features that personify the Holga would be considered defects in any other camera. Holga's lo-fi attributes create distinctive images not created with any other conventional camera. These are the reasons the Holga camera has gained a huge cult following.
Teachers have employed Holga as a tool to educate students in the fundamentals of photography while exploring unpredictable and unexpected photos created by this camera. Professionals carry Holga for their fine-art appeal. Holga gives all photographers the ability to dip their toes into the otherwise very expensive world of medium format photography.
Holga-isms
Holga is a study in plastic imperfection. To use it is an exercise in breaking free from the dependence on technology.
Holga is a contender. Holga challenges our visual perception. Using a Holga introduces us to an unfamiliar view of the world. We notice more things, different things, unusual things; which then take on new meaning and significance.
Holga is a mentor; taking us under its wing and showing us a new way to see and portray our world.
Holga is a rebel, a rule breaker. To use Holga is to utterly change the point of reference most people use to interpret photography.
Holga is an artists' assistant. Its retro image aesthetic in combination with the photographer's creative choices yields an unexpected work of art.