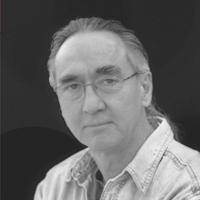 Biography
Ryuijie was born in Otaru, Japan in 1950. As a young child he moved with his family to the US and subsequently lived in many places; from Hawaii to New Hampshire, and again in Japan, until his father retired from the military. Throughout his childhood, Ryuijie showed a serious inclination to the arts. This interest began to materialize during his military service. While stationed in Guam, Ryuijie learned underwater photography while pursuing his long time interest in scuba diving. After his tour, he came back to the Monterey Peninsula, in California, where he attended college and began a successful career in lithography.
It was in Monterey that an exhibit of Jerry Uelsmann's photographs inspired him and propelled him into the practice of fine art black and white photography. Ryuijie has steadfastly pursued his own photographic vision for twenty eight years, and has acquired a reputation for his exquisite platinum/palladium prints, in addition to his traditional black and white work. An exceptionally prolific artist, Ryuijie's career has been highlighted by a multitude of exhibitions.
His work has appeared in View Camera, Photovision, Camera and Darkroom, Black & White and Lenswork magazines. He has published three books Ryuijie: Photographs, Time and Place, and Fragments of Time, along with smaller catalogs. His first portfolio Ryuijie: Ten Photographs was published in 1990 and his second portfolio Ryuijie: Portfolio Two Platinum/Palladium was published in 2002. Ryuijie's current work involves large split toned black and white prints of frozen botanicals, and his third Portfolio, P-Square a selection of square photographs taken with a 2 ¼ Rollei camera. In October 2005 Ryuijie returned to his first love the landscape, abstraction, and creating panoramic visions of the natural world. Works by Ryuijie can be found in private and public collections world wide including the Getty in Los Angeles. His work is represented by the Josephus Daniels Gallery in Carmel, Photo Gallery International in Japan, Galerie 19/21 in Guilford Connecticut, Peter Fetterman Gallery in Los Angeles. The John Stevenson Gallery in New York, Susan Spiritus Gallery, Newport Beach and The Weston Gallery in Carmel, California. Portfolio Two is available at the Levin Gallery in Monterey, California.