The Silver Collection By Arista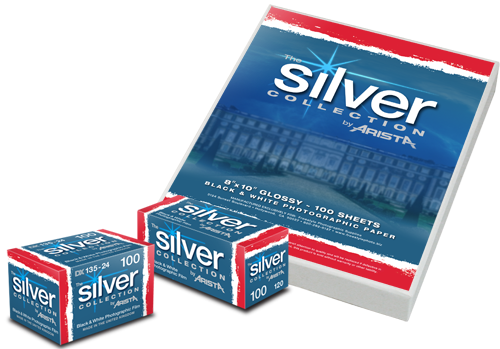 Introducing The Silver Collection by Arista black and white films and papers! Manufactured in the United Kingdom under strict direction by Freestyle, we bring you a new black and white film in 100 and 400 ISO.
Available in 35mm, 120 size and popular sheet film sizes, these new films are sure to satisfy the most discriminating of photographic artists while maintaining that low Freestyle value price point.
The new Silver Collection by Arista B&W paper is available in variable contrast resin coated glossy and semi-matte. Graded RC papers are also available in standard medium weight on a pure white base and very neutral to cold image tone. Compatible with Ilford Multigrade filters, these new papers have the contrast range and exposure speed to deliver outstanding fine art prints. A true professional quality, value priced product.
COMING SOON!