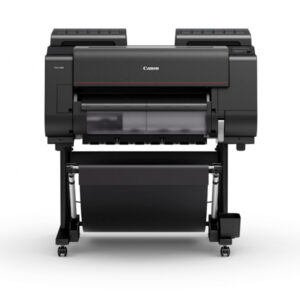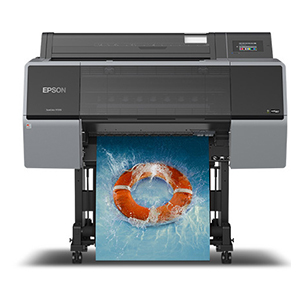 First, there is no doubt that both Canon and Epson produce excellent printers. They are THE brands currently at the top of the market in terms of the equipment we use for fine art digital printmaking. There are differences worth considering when deciding which printer to purchase and this article discusses some of the past concerns as well as the most up to date information. Yes, things have changed recently!
The current product range from each company are the Canon PRO Series imagePROGRAF and Epson SureColor® printers. Both will absolutely create fine art digital inkjet prints of the highest quality and are designed to meet or exceed the expectations of what we call "gallery/exhibition/museum" quality prints. Below are features and comparisons of each model to help you understand the functionality of each printer brand before making a final decision.
Switching Between Photo Black & Matte Black Ink
Up until recently the popular Epson Stylus Photo and SureColor® range of Epson pigment-based printers needed to physically switch between Photo Black and Matte Black ink based on the type of media you are printing on. These printers only have one channel for Black and the printer must purge one type of ink before it prints with the other. This is how they were designed to work and is necessary to maximize print quality on various media as Photo Black ink is optimized for glossy and luster inkjet papers, while the Matte Black ink is optimized for the coatings on matte inkjet papers.
These models of Epson SureColor® printers no longer require switching between the two types of black inks:
Canon PRO Series imagePROGRAF, as a product range, do not have to switch between black inks as there are two separate channels on the head to accommodate both Photo Black and Matte Black. The media setting determines which ink you are using and the printer just prints the ink you want. No switching of inks will result in less waste of time and ink.
Print Head Clogging
All inkjet printer print heads clog. This is the hard cold reality of inkjet printing and is why the manufacturers have the ever popular Nozzle Check & Head Cleaning feature built in to every printer. Epson printers use a MicroPiezo® AMC™ print head and tend to clog from time to time, which is a common complaint of many Epson printer owners. The Epson SureColor® printers now run automated, periodic nozzle check and head cleaning cycles to help minimize head clogging issues. The newer printers also include new coatings on the heads designed to minimize print head clogging. Most Epson users run a manual nozzle check procedure when they start their Epson printer just to make sure all color channels are clear before printing. Environmental conditions and frequency of printing both contribute to print head clogging issues. It is important to note that Epson printers are designed to be turned off when not in use.
To avoid/minimize head clogging it is recommended to print something on your printer at least once per week. The more you use your printer, the more use you will get out of it! This goes for all printers!
Note: On Epson printers, if you are experiencing a particularly difficult head clogging issue, do not perform any more than 3 nozzle check and head cleaning cycles at a time or the head can overheat and burn out. After doing 3 cleaning cycles, shut down the printer for a few hours and start again. Keep on running these cycles as necessary until the nozzle check pattern looks like it is free from clogs.
Canon printers use thermal print head technology whereby the head heats up before printing, essentially dissolving any unwanted debris on the head that would likely cause problems. Canon printers also require less cleaning and will survive for longer periods of time of non-use. Canon printers are designed to be left on and can be set to go into "sleep mode." The printer will wake up from time to time and perform an ink tank agitation procedure, nozzle check and head cleaning procedure on its own, as needed. This however does not mean that you will never need to perform a nozzle check and head cleaning procedure, the frequency should be far less though.
Consistency Over Time
Canon printers feature a Color Calibration procedure by which you can establish a base-line standard for color of the printer using a Canon Branded paper at the time of printer installation. If the printer seems like it is drifting in color over time or you need to replace the printhead or other major service, you can simply zero out the current calibration and re-run the color calibration procedure using the exact same Canon Brand paper. This will reset the printer to the original standard. This also preserves any custom paper/printer profiles you might have created in the past. Epson printers require an authorized technician to perform a calibration or linearization as they cannot be done as easily as on a Canon.
Paper Feeding Mechanism
Another issue that has been a complaint of Epson Stylus Photo printers is the paper feeding mechanism on both desktop and wide format printers relating to "Paper Skew Errors" and difficulty in feeding papers reliably as the printer ages. With desktop printers, the issue is caused by environmental dust and paper dust getting into the printer and coating the parts that grab and transport the paper, causing a misfeed. A couple of tips to help alleviate this problem is to use a compressed air blower (canned air) to blow dust out of the top feed tray. You can also use a paper towel or cloth saturated with rubbing alcohol and coat the little rubber foot in the printer that grabs the paper. This will help refresh the rubber and remove the dust coating this part, which should help feed the paper more reliably.
The Canon Pro-1000 has a vacuum transport mechanism making paper feeding more reliable and the single sheet feeding mechanism on the Pro Series 24 inch and larger printers seems flawless. Epson SureColor® P600/P800 printers feed resin-coated, glossy/lustre paper and inexpensive matte papers from the top paper loading tray. Fine Art Matte papers need to be fed through a front fine art paper feeding mechanism in order to use the correct Velvet Fine Art Media Type Setting. This can be time consuming and problematic.
Update: The newly introduced Epson SureColorP700 and P900 desktop printers will now feed Fine Art Matte papers from the top paper feed tray enabling you to use the correct Velvet Fine Art Media Type Setting.
One advantage to all Epson SureColor® 24 inch and wider large format printers is that they can accommodate a very thick paper mounted on stiff board (1.5mm or less thickness) fed through the flat paper feed mechanism. Canon PRO Series imagePROGRAF 24 inch and wider printers have to bend so you can not feed stiff board-like material through them.
Simplified Printing Interfaces
Epson introduced a FREE program called Epson Print Layout a couple of years ago. It provides a simplified but powerful printing interface for their SureColor® Series printers. This is one of the best kept secrets of Epson printer ownership and is capable of operating as a plug-in for Photoshop through the Automate Menu or as a stand alone application. Epson Print Layout will also have an iOS® version for use with their new SureColor® P700 and P900 desktop printers.
Canon has historically and continues to offer Print Studio Pro as a very simple to use and full-featured printing interface. Canon's newer program called Professional Print & Layout printing program allows you to perform basic nesting and more advanced layout tasks than ever before. Canon PPL is built around the concept of easily printing multiple images on a page. Both Canon PPL and Epson EPL can be opened as standalone programs so you don't even need Photoshop to print your files if they are already prepared as TIF or JPG and ready to print.
---
Canon Print Studio Pro is compatible with the following printers: Pro-100, Pro-10, Pro-1000, Pro-2000*, Pro-4000*, Pro-4000s*, Pro-6000*, Pro-6000s*
Canon Professional Print & Layout is compatible only with the following printers: Pro-1000, Pro-2000*, Pro-2100, Pro-4000*, Pro-4100, Pro-4100s, Pro-6100, Pro-6100s
Epson Print Layout is compatible with the following printers: P400, P600*, P700, P800*, P900, P5000, P6000, P7000, P7570, P8000, P9000, and P9570. (The iOS® version will only be compatible with SureColor P700 & P900 printers.)
*Indicate discontinued Canon & Epson printer models.
---
Ink Tanks
In the wide format printers, Epson's ink tanks are loaded behind doors in the front of the printer. These doors have to be opened to replace the ink tanks, which means interrupting your print job. Usually this also means that if the printer stops in the middle of a print job that the print is ruined. Canon's large format printer ink tanks are top-loaded in the printer in easily accessible slots and can be swapped at any time. Canon printers come with a full set of usable ink. Canon PRO Series imagePROGRAF Pro-2100 comes with 160 ml of usable ink for all 12 cartridges and the Pro-4100/6100 printers come with 330ml of each ink. Epson printers come with just enough ink in a starter set to prime the system and make a few prints, which means you should purchase a full set of ink with any Epson SureColor printer. Both brands of large format printers have several sizes of ink cartridges that can be mixed in the printer based on usage.
All Canon and Epson Desktop type printers utilize only one size of ink cartridge. Epson printers come with a starter set of ink cartridges that are smaller than the replacement cartridges.
It is worth noting that the Epson SureColor P5000 desktop printer features both roll and sheet feeding mechanism but is designed for volume printing 24 hours a day, 7 days a week. This type of Epson printer has historically suffered the most from head clogging issues due to lack of use.
Archival Permanence
The jury is still out on archival permanence. While testing from some independent companies show that Epson inks can be more resistant to fading vs. the new Canon PRO Series imagePROGRAF printer inks, the reality is that the composition of the media you are printing on, as well as the environment in which you are storing or displaying your image, have much more to do with archival permanence than any other factors. Your prints will last a super long time if you use 100% Cotton papers without optical brightening agents, let your prints out-gas for 24 hours, spray them with protective spray to keep them from continuing to absorb airborne contaminants, mat (with acid free mat board) and seal them in frames, and display them in locations with normal room temperature, low humidity and away from bright sunlight.
Custom Media Settings
Canon PRO Series imagePROGRAF comes with a program called the Media Configuration Tool. This allows you to customize media files for head height, ink load, vacuum strength, custom renaming to whatever paper you want as well as attaching a profile to it so that it will automatically load when choosing the custom media file.
Accounting Manager
Canon PRO Series imagePROGRAF printers also come with a FREE program called the Accounting Manager. It allows you to export the cost per print job for ink and paper into a .CSV file, enabling you to easily calculate your cost per print. You can also access this information on a per job basis from the LCD screen of the printer itself. Epson printers can only do this with a third party software.
Automatic Firmware Updates
Canon PRO Series imagePROGRAF Pro-1000 and larger printers all come with a built-in feature on the printer itself allowing you to connect the printer via wi-fi to periodically ping Canon's Firmware Server to look for available new updates. You can then choose to update the firmware when the alert is posted on the LCD screen of the printer. Epson printers will update firmware via Epson's software update program.
Multi Function Roll System
Canon PRO Series imagePROGRAF printers offer an optional Multi Function Roll System which allows you to load two rolls on to the printer at the same time and switch between them via Print Studio Pro or Professional Print & Layout software. The system can also act as a take up spool, rolling the paper emulsion in or out depending on how you set it up – a great option for long panoramas.
Built In Hard Drive
Canon PRO Series imagePROGRAF printers come with a built in hard drive. This hard drive acts as a print server to manage print jobs more efficiently when sent from multiple computers. This feature also records the data the printer used to print a file, allowing it to be recalled later and printed directly from the LCD screen of the printer, rather than sending the print job from a computer. Epson offers an internal print server hard drive as an optional accessory feature.
Print Head Replacement
Realistically, at some point in the printer's life, you will have to replace the printhead. Replacing a printhead in an Epson printer can be a costly and inconvenient affair. It requires an on-site service call from an authorized Epson Service Technician and can cost up to $2,500 on the SureColor 24, 44 and 60 inch printers. A replacement head on an Epson printer is under warranty for 90 days. Canon PRO Series imagePROGRAF printers utilize a single, user replaceable, printhead (PF-10) and come with a 1 year warranty. Just like on an Epson printer, you will be replacing a printhead at least once in its usable life, maybe even several times. Canon and Epson both offer extended warranty options for their printers. Extended warranties have to be purchased within 11 months of the original printer purchase.
The bottom line is, each brand has its own quirks and idiosyncrasies. Museums, galleries and professional photographers of the highest caliber produce prints on both of these brands of printers. The ultimate choice of which printer to purchase is up to you. We are here to help though. For additional questions and inquiries please contact our Digital Printer & Inkjet Paper Consultant and Resident Print Expert Eric Joseph at etj@freestylephoto.biz.